T1/T2 Basic and Intermediade Solar PV Training from June 4 to June 14, 2018
Submitted by karfes on Mon, 2017-03-06 15:34
The Course:
The basic/intermediate course course aims to provide practical training on basics of solar electricity, solar resource mapping, site assessment & planning, design of solar PV systems as well as installation and maintenance.
Download T1/T2 Application Form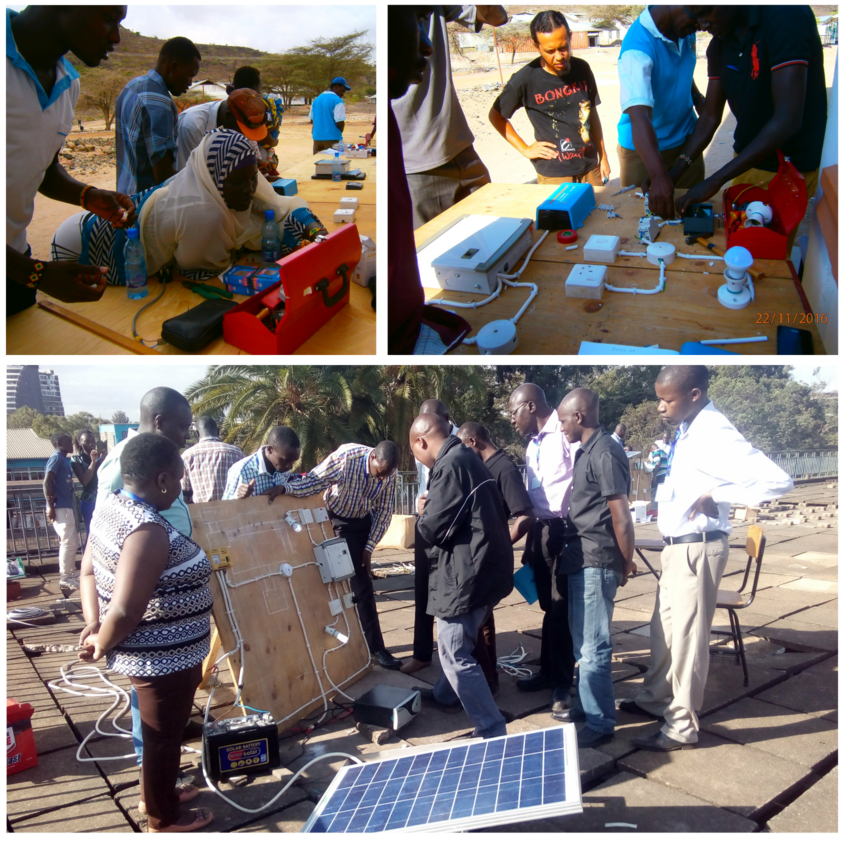 Target & Qualifications:
The training prepares one for accreditation by NITA in line with the ERC Solar PV Licensing Regulations. The applicant must have at least Kenya Certificate Secondary Education (or equivalent) plus Diploma in Electrical and/ or Electronics or BSc Electrical Engineering or relevant degree or Higher National Diploma. Those who have been practicing installation or retailing for atleast 2 years will also be considered for the training. The training is ideal for groups or individuals from government, public or private institutions, electrical installation technicians, teachers, technical institute tutors, NGO's outreach personnel and solar pv retailers.
Areas covered:
The training will cover :
Occupational Health and Safety

Basics of solar PV electricity,

Solar PV characteristics

Solar PV components (panels, batteries, charge controllers, inverters),

Solar V appliances (lights, refrigerators, tv, radio, water pumping),

Site survey and solar system sizing,

Solar PV systems Installation and maintenance

Entrepreneurship in Solar PV applications
Training Methodology:
The course will be delivered in lecture format using PowerPoint, sharing of case examples, practical demosntrations, group practical on sizing, installation and maintenance, group and individual assessment. Class capacity is limited to a maximum 25 participants and is available full time for two weeks

Training Materials:
Copies of training manual, practical manuals

Stationery

Equipment, accessories and tools for demonstration

Tools and equipment for installation practical
Certification:
On successful completion of the course students receive a certificate of participation from the University of Nairobi for accreditation and licensing by ERC.
Course Duration and Fees:
The course duration is Two Weeks (June 4 – 14, 2018) at a cost of KShs.45,000/- per person for Kenyans or USD 550 for non-Kenyans which covers tuition, training materials, lunch and teas. Anon-refundable application fee of KShs. 1000/- (or USD 20) is charged and together with the training fees are payable to:
Account Name: Industrial Electronics Unit (UoN),
Bank: Barclays Bank Westlands Branch,
Acc. No. 073-1264775.
Duly completed forms and bank deposit slip should be returned to the Department of Physics or can also be scanned and emailed to physics@uonbi.ac.ke on or before 31 May 2018.
Download T1/T2 Application Form