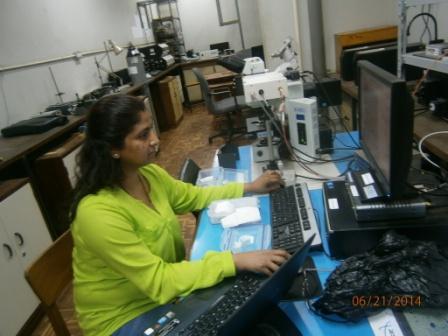 Raman spectroscopy for Forensic Analysis
Bobby Bhatt, a Ph.D(physics) student using Confocal Raman Spectrometer.
Prof. Mwabora participating in tree-planting event at Chiromo recently.
Tree-planting at Chiromo Campus
Physics department chair, Prof. Mwabora (center), Tree- planting event at Chiromo.
First year BEd Science, Distance Learning Students, Addressed at the School of Physical Sciences
Department of Physics Issues Solar Academy 2014 Certificates
The Physical Society of Kenya (PSK)
The attendees at the Physical Society of Kenya meeting at the Kenya united club on 6 March, 2014.
Special Solar Academy November 2013
Special Solar Academy (22nd October - 1st November 2013)
Latest News in Physics
Physics students during their practical's on Latches and Flip-Flops
Location
Show Ground, Jamhuri
Read More....
 Physics department will be hosting Dr. Rituparno Goswami and Dr. Anne Marie Nzioki on January 15, 2016. Dr. Goswami is a Senior Lecturer & Gravitational Physicist Astrophysics and Cosmology Research Unit at the University of Kwazulu Natal, Durban, South Africa. He will be giving a talk on "Cosmic Nudity!!!

Location
Show Ground, Jamhuri
Read More....
Welcome to Department of Physics