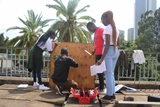 T1,T2 Application form.
T3 Application form.
The Department of Physics in conjunction with Solar Energy Research Group invites applications for T1 &T2 and T3 training in solar photovoltaic design, installation, maintenance and commissioning for the last quarter of  2023 training.
QUALIFICATIONS
T1 &T2: At least a High School certificate. Extra professional or academic certificates and or field experience not compulsory for admission.
T3: Must have done T1 &T2 training. At least a Diploma in Electrical or its equivalent. At least a diploma in another scientific field but with a Physical Science background can be considered.
T1 &T2  SCOPE
The training will cover among others:
• Basics of solar PV electricity,
• Solar PV components (panels, batteries, charge controllers, inverters),
• Solar PV appliances (lights, refrigerators, tv, radio, water pumping),
• Site survey and solar system sizing,
• Installation and maintenance,
• Entrepreneurship in Solar PV applications
 SCOPE
The training will cover: System design. 
• PV plant performance.
• PV array & Inverter matching
• System  protection and  safety
•  DC and  AC cable  design 
•  Site  assessment  & planning for commercial rooftop & MW scale PV power projects
• Array layout design preparation
• Loss, Energy Yield & Performance Ratio estimation, Financial Analysis & Project Bankability,
• Solar PV Design for Commercial rooftop and MW    PV plants using Design Software , System monitoring and evaluation
THE TRAINING
The training will be physical at the Department of Physics, Chiromo Campus, University of
Nairobi. Care will be taken to observe covid 19 protocols.
TARGET GROUPS
T1, T2 Course: The training is ideal for groups or individuals from government, public or private institutions, electrical  installation,   technicians,  teachers,  technical  institute tutors, NGO's  outreach  personnel  & solar  PV retailers.
T3-Advanced Design Course: The training targets PV engineers, Project Managers, Solar EPC Contractors, Solar Industry professionals, PV system designers or anyone else involved with designing/ implementing grid connected PV systems.
DURATION AND COST
The T1& T2 training will run from 14th  August, 2023 – 19th August 2023 full time, 8 am-5pm. The tuition cost is KShs.45,000/- per person for Kenyans or USD 500 for non-Kenyans..
The T3 training will be from 28th August, 2023 – 2nd September 2023 full time, 8 am-5  pm.
The tuition cost is KShs.50,000/- per person for Kenyans or USD 550 for non- Kenyans.
Participants are expected to arrange for their own accommodation near the training venue as well as health cover during the period
HOW TO APPLY:
Application forms are available online at   http://physics.uonbi.ac.ke/.  A non-refundable application fee of KShs. 1000/- (or USD 20 for non Kenyans) is charged and together with the training fees are payable to:  
UON - INCOME GENERATING UNIT Account, Kenya commercial Bank, University way Branch
Acc. No. 1104698676, SWIFT code: KCBLKNX (if they ask for your student registration  number, tell
them you are not a regular student, rather  you are paying for some special training).
Duly completed application forms, academic & professional certificates and bank deposit slip should be returned to the Department of Physics or can also be scanned and emailed to: solaracademy2012@gmail.com on or before 4th August, 2023. Due to the limited number of training opportunities, for each intake, invitation shall be based on first come first served basis.
For further Enquiries: Contact Chairman, Department of Physics, Chiromo Campus, Tel 020-4914119, email: physics@uonbi.ac.ke, or The training coordinator on telephone +254722838140, Email: swaita@uonbi.ac.ke