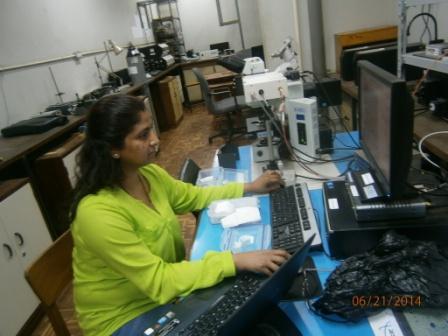 Raman spectroscopy for Forensic Analysis
Bobby Bhatt, a Ph.D(physics) student using Confocal Raman Spectrometer.
Prof. Mwabora participating in tree-planting event at Chiromo recently.
Tree-planting at Chiromo Campus
Physics department chair, Prof. Mwabora (center), Tree- planting event at Chiromo.
First year BEd Science, Distance Learning Students, Addressed at the School of Physical Sciences
Department of Physics Issues Solar Academy 2014 Certificates
The Physical Society of Kenya (PSK)
The attendees at the Physical Society of Kenya meeting at the Kenya united club on 6 March, 2014.
Special Solar Academy November 2013
Special Solar Academy (22nd October - 1st November 2013)
Latest News in Physics
The Course:
University of Nairobi Advanced Solar PV systems design course aims to provide training on site assessment & planning, design, resource assessment & energy yield estimation methods, use of advanced simulation software, and pv projects' economic analysis. The course will cover commercial rooftop grid tie systems and solar PV plant projects of MW scale and will involve designing using advanced 3D PV simulation software.
Location
CBPS, Physics Department
Read More....
The Course:
The basic/intermediate course course aims to provide practical training on basics of solar electricity, solar resource mapping, site assessment & planning, design of solar PV systems as well as installation and maintenance.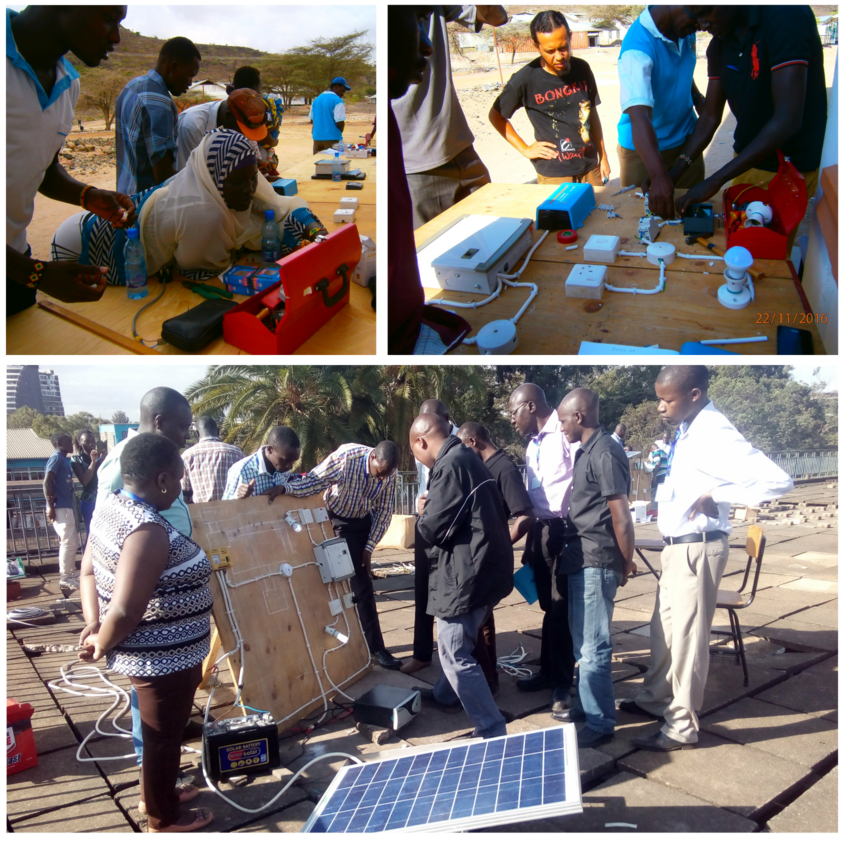 Location
CBPS, Physics Department
Read More....
Introduction
Green Energy is gaining a lot of worldwide attention owing to the challenges nations are facing with the conventional sources of energy. With most third world countries mainly depending on hydro for power generation, climatic conditions have not helped improve on generation capacities. Locally, recent experience of prolonged drought has led to commensurate increase n the cost of electricity. As such both government and private sector have worked out remedial plans both short term and long term. Among them is development of solar PV as a source of electricity and the government has planned and implemented some of these projects through construction of solar PV mini grids as well as licensing of MW scale PV plants.
Small solar home systems have provided offgrid solutions in Kenya and most recently lanters have added to the offgrid solutions due to their blending of the social structures. Most recently there has been marked entry of medium size and MW scale PV projects in the country. The private sector has also embarked on energy energy saving measures and alternative sources with solar being the best choice. With this expansion, there is need to build local capacity to do design, installation and carry out operation and maintenance of the installed systems. Nairobi has set the pace with urban solar PV commercial rooftop installations already in operation such as the Garden City, Two Rivers and ICIPE Kasarani campus under installation. Strathmore University has set pace for solar rooftop plants purely for sale to the national grid by successfully negotiating a Power Purchase Agreement. It is therefore necessary that we build this capacity and that is the objective of this training.
We are currently running two programmes under the professional courses oin solar PV under basic, intermediate and advanced levels of training. Grab the opportunity!! Apply Now by choosing the link below
1. T1/T2 Basic and Intermediade Solar PV Training
2. Advanced Grid Connected Solar PV Design Course
Trainers:
The training team comprises a pool of experienced trainers drawn from the University of Nairobi led by Principal trainer Dr. Justus Simiyu. Dr Simiyu is a Senior Lecturer in Physics at the University of Nairobi and a member of Condensed Matter Research Group (in the Department of Physics, University of Nairobi).
He also co-ordinates training in photovoltaics sizing, installation and maintenance in the department for the group and an active member of the college committee for exhibitions in local and international fairs. He is in charge of promotion of Physics and Science in high schools in Kenya through organized visits and talks to high school students for the department. He teaches and supervises undergraduate and postgraduate students in the areas of basic physics, materials science and solar energy materials and applications. He also provides policy advice and consultancy on climate change maters with a particular focus on low carbon technology transfer and development to the Government of Kenya towards the implementation of Vision 2030 flagship projects. He has participated and continues to participate in research collaborations with partners in Sweden and Germany in areas of solar energy materials research and applications.
Dr Simiyu offers consultancy on PV curriculum development, capacity building, project feasibility studies, System design, PV systems inspection and verification.
Location
CBPS, Physics Department
Read More....
The University of Nairobi has partnered with Environmental Systems Research Institute (Esri E.A), to set up a University-wide ArcGis site license software. This follows a series of meetings which culminated in the signing of an MoU between the University of Nairobi and Esri Eastern Africa.
Location
CBPS, Physics Department
Read More....
Welcome to Department of Physics