Public Lecture by H.E. Matteo Renzi, the Prime Minister of Italy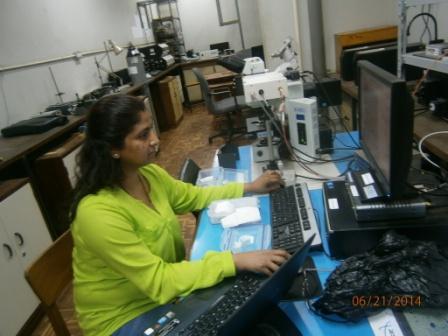 Raman spectroscopy for Forensic Analysis
Bobby Bhatt, a Ph.D(physics) student using Confocal Raman Spectrometer.
Prof. Mwabora participating in tree-planting event at Chiromo recently.
Tree-planting at Chiromo Campus
Physics department chair, Prof. Mwabora (center), Tree- planting event at Chiromo.
First year BEd Science, Distance Learning Students, Addressed at the School of Physical Sciences
Department of Physics Issues Solar Academy 2014 Certificates
The Physical Society of Kenya (PSK)
The attendees at the Physical Society of Kenya meeting at the Kenya united club on 6 March, 2014.
Special Solar Academy November 2013
Special Solar Academy (22nd October - 1st November 2013)
Latest News in Physics
Prof Catherine Marion Cress, a Principal Research Scientist at the Center for High Performance Computing in Capetown, South Africa, and an Extra-ordinary Adjunct Professor of Astrophysics at the University of the Western Cape will be travelling to Kenya between 12-13 July, and will visit the department of Physics on 13th July 2015. During her visit, she will be giving a public seminar titled "Developing High Performance Computing and "Big Data" science in Kenya", and will focus on the upcoming world's largest radio telescope- The Square Kilometer Array (SKA) telescope, part of which Kenya is proposed to host. Read brief CV HERE>>>
Location
Chiromo. School of Physical sciences Boardroom
Read More....
The 2nd Sub Saharan Africa Solar Summit has kicked off in Dar es Salaam, Tanzania. The Department of Physics is represented by Dr. Justus Simiyu and Mr. Charles Obure in the two day summit that is being held at Golden Tulip Hotel. The theme of the summit is to discuss the emerging technologies in renewable energy and more so emphasis on mini grids, energy storage and battery technology. This is with main focus on Sub Saharan Africa's rural communities. In his opening remarks, the summit chairman, Prof Abubakr Bahaj of University of Southampton, UK stressed the need for access to reliable energy for development. For this to be successful, one of the key issues is capacity building in the  area  of  renewable  energy  (solar  energy  in  this  context).  The  summit  has  brought  together entrepreneurs,  funding  agencies,  energy  regulators,  education  and researchers  from  around  the world.
Dr Simiyu at the summit
Location
Dar es Salaam, Tanzania
Read More....
Welcome to Department of Physics